Have you ever read the ingredients list on the back of your facial scrub?  Do you understand what all those technical and chemical ingredients are and do?  Do you really know what you are using to scrub away your facial or body skin cells?
A lot of cosmetic companies these days have been using a synthetic, non biodegradable plastic as the main abrasive in their scrubs – Polyethylene or PE micro beads!
Previously, the exfoliant was crushed shells like walnut or almond, salt or sugar.  Completely natural and completely biodegradable and harmless.
Because of the size of these micro beads it is extremely difficult to remove them from waste water treatments once they have gone down our sinks.  The end point for many plastic micro beads is the ocean and seas where they are known to be ingested by filter feeding organisms.  Whilst in the ocean these micro beads have the potential to absorb and concentrate toxic pollutants from the surrounding water.  We don't want these in the food chain.
Most people are completely unaware that these products may contain plastic micro beads. Take for example the product above.  On quick glance it appears the scrub uses wholly natural ingredients.  The back of the bottle marketing spiel says "Superdrug Tea Tree & Peppermint Exfoliating Cream Wash contains natural walnut shell granules to gently exfoliate and cleanse your skin…' But the ingredients list tells a different story.  Number 7 on the ingredients list is Polyethylene whilst lower down (ie with less volume) at number 12 is Juglans Regia (walnut) shell powder.
Plastic Free Seas contacted Superdrug about this explaining how Polyethylene  was not a good choice of exfoliants due to the environmental harm the micro beads cause but their response was "…we have no plans to replace Polyethylene Beads with natural or naturally derived alternatives at the moment…"
Darlie on the other hand were of a different opinion.  Did you know the blue flecks in this brand of toothpaste are plastic?  It is quite shocking really to think that tiny pieces of plastic have been added to a toothpaste.  When  Darlie were contacted their response was "The blue speckle used in All Shiny White toothpaste is safe for use. As a continuous improvement effort, the blue speckle will be replaced by hydrated silica in near future."  Great news! 

Plastic Free Seas is part of a global campaign with US based 5 Gyres Institute (http://5gyres.org/how_to_get_involved/campaigns/) and in Europe the Plastic Soup Foundation (http://plasticsoupfoundation.org/eng/) to raise awareness and affect change in the cosmetic industry to phase out plastic micro beads.  There have been some pretty big successes so far with Unilever taking the lead in 2012, followed this year by Colgate-Palmolive, The Body Shop, Johnson & Johnson, L'Oreal, Beiersdorf and Procter & Gamble.  Only Unilever and The Body Shop though have committed to a phase out date (2015).
The pressure is on in the UK & Asia.  A couple of companies have a big market share here and are difficult to penetrate.  But we are persisting!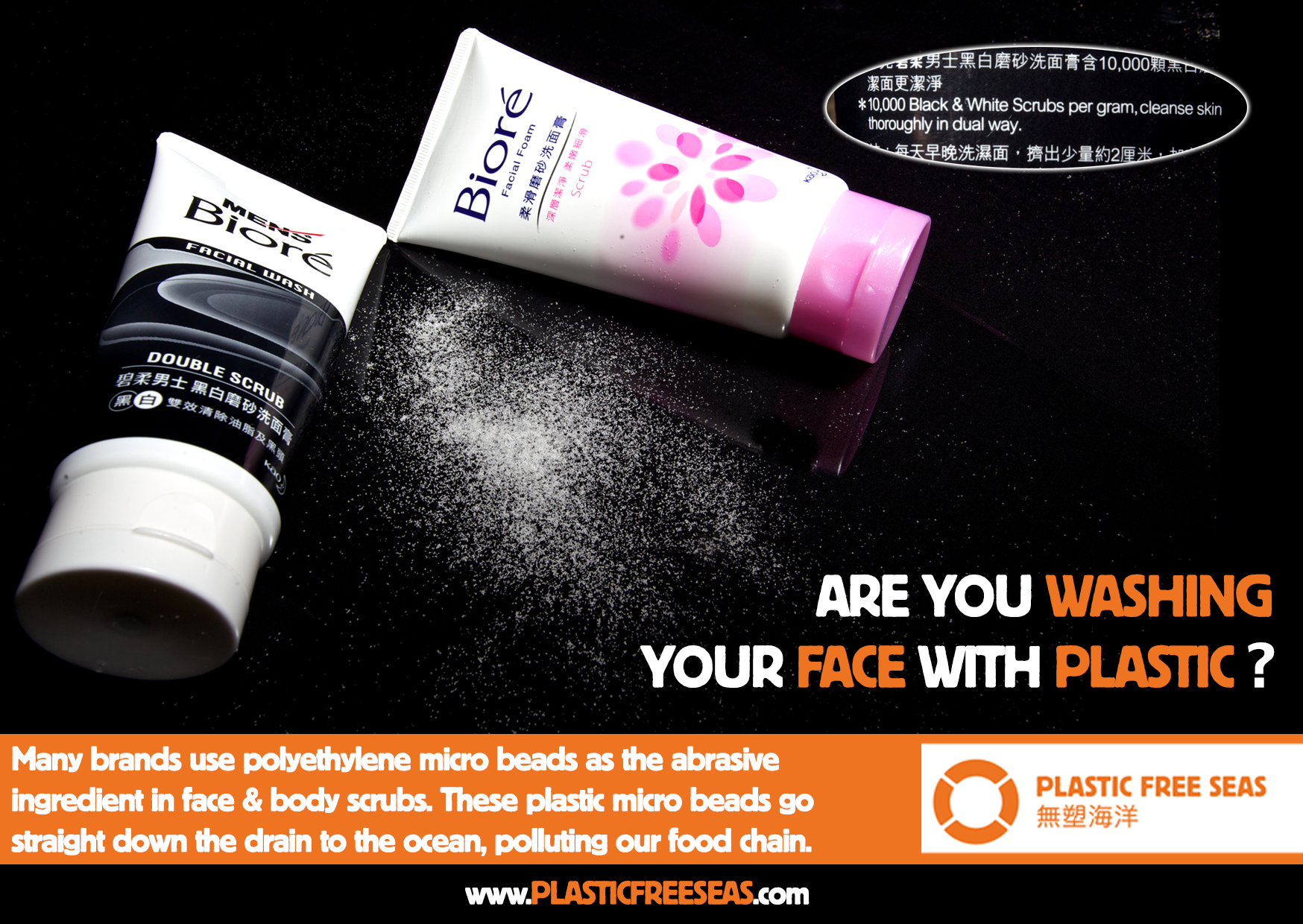 So what can you do?  Always read the ingredients list to see if your scrub contains polyethylene.  Don't assume because it is expensive it won't – the most expensive scrub to date I have seen was HKD $390.
Refuse to buy scrubs containing plastic.
Tell everyone you know about plastic in body care products.
Get on to social media sites and ask these companies when they are going natural?  And write directly to the companies too.  The more pressure we can apply the quicker they will change their formulas.
'Like' the Plastic Free Seas Facebook page to keep up to date with campaign news and read the Plastic Free Seas website page on Micro beads to learn more about this issue.
Plastic Free Seas has written to the HK Government to expand the Product Eco-Responsibility Ordinance to include products that contain plastic micro beads.  It is being raised in LegCo on June 18th.
Plastic micro beads are designed to pollute – together we will stop the bead!