Beach Cleanup – Individuals
Beach cleanups are an opportunity to see first-hand the rubbish that is washing up or being littered on our coastlines and take an immediate act to make a positive difference.
Beach cleanups are a great catalyst for change!
Join our Community Beach Cleanup Events or organise your own cleanup.
A beach cleanup doesn't need to take a huge chunk of your day and it doesn't need to be organised event either. Every piece of rubbish removed makes a difference, even 5 minutes spent collecting littered rubbish on the beach or in the streets on your way to work or school can make a difference.
PFS/DB Green Community Beach Cleanups
Please see the current schedule below. We will be paying special attention to social distancing. People must stay in groups no greater than 4 people. Everyone must wear a mask, and share their name and contact details with us.
As always, we encourage reusables.
We are pleased to be partnering with Handson Hong Kong for our monthly community beach cleanups in DB. To join our cleanups as a volunteer, please sign at www.handsonhongkong.org 
The Plastic Free Seas community beach cleanup program in Discovery Bay on Lantau Island enables individuals, families and school students the ability to make a positive difference to the beaches and sea.
Whether you want to participate because it is a fun, social and meaningful way to spend time with family and friends or you want a bit of purposeful exercise, or for students to help fulfil extracurricular requirements, we welcome your help and support.
Plastic Free Seas supplies washable and reusable cotton gloves (you are also welcome to bring your own), trash bags (for landfill and for recycling) and first aid.
Note that for volunteers who sign up ahead of time, if you are travelling to and from Central on the ferry, a discounted ferry ticket can be arranged. All information will be shared once you have successfully signed up with Hands on Hong Kong.
Note: Future dates may change – please recheck the website prior to the event.
We ask that you wear appropriate clothing for the weather and closed-toe shoes that protect your feet (there are hazards – particularly broken glass) and bring a full reusable water bottle.
If a school or community group would like to participate in a beach cleanups please contact us.
If your company would like to participate in a beach cleanup, please follow the link to learn more about the corporate programme.
Looking forward to seeing you on the beaches this year!
DB Community Beach Cleanup Locations
The locations are marked in red for the two beaches we clean on alternate months: North Plaza (Sam Pak Wan) and Nim Shue Wan.
Nim Shue Wan
The beach is a 5-minute walk from the ferry pier and main bus station. Turn left out of the ferry pier to reach the main road. The bus station is next to the main road. Turn left on the main road. and walk a few mins until the fork in the road. Cross the road. The entrance to the beach is through the gate behind the security hut.
Sam Pak Wan (SPW)
The beach is accessible via internal bus (T4,T9) from the main bus station which is next to the ferry pier. SPW is also accessible via external bus direct from Sunny Bay to the North Plaza. From Tung Chung, alight at the first stop after the DB tunnel. It's a 5-minute walk through another tunnel to the North Plaza. Walk left along the waterfront to find the path to the beach.
How To Organise Your Own Beach Cleanup Event
Where to Start
1. Choose a date, time and location
For many people 60-90 minutes is enough for this physical activity, especially if it is a hot day.
Choose a beach preferably that is not cleaned daily by the government contractors. This will be classed as a non-gazetted beach. Check the Clean Shorelines event page to see what cleanups are already taking place and to find more information.
Arrange a site visit to check accessibility, safety, rubbish load & to make a plan for rubbish collection.
2. Check the tides
Check the Hong Kong Observatory for tide levels. Low tide (less than 1.5m and decreasing) is best for a beach cleanup.   
3. Register your event & get prepared
Let Clean Shorelines (and everyone else) know about your event. You can obtain gloves and rubbish bags for your event as well as arrange for rubbish bag collection through them. You can contact them via the following:
By phone: 2594 6578
Email: [email protected]d.gov.hk
Bring a first aid kit for any minor cuts or scrapes, bites or stings. Include extra sunscreen and insect repellent.
Be sure to read the Advice and Safety Instructions to the right.
Make a plan for the rubbish collection.
During your site visit, locate the nearest bins (rubbish and recycling). It is easier if you have different coloured bags to differentiate recycling from general waste. If it is an isolated beach without bins, make a plan before the event for where to put the rubbish awaiting collection by the government. Contact Clean Shorelines to arrange pickup. Leave bags well above the high tide line.
4. Make it Fun!
Competitions are a great way to spur interest. Who will collect the most rubbish? What was the strangest beach find? Guess the amount of bottle caps on the beach?
Download the Beach Cleanup Planning Guide below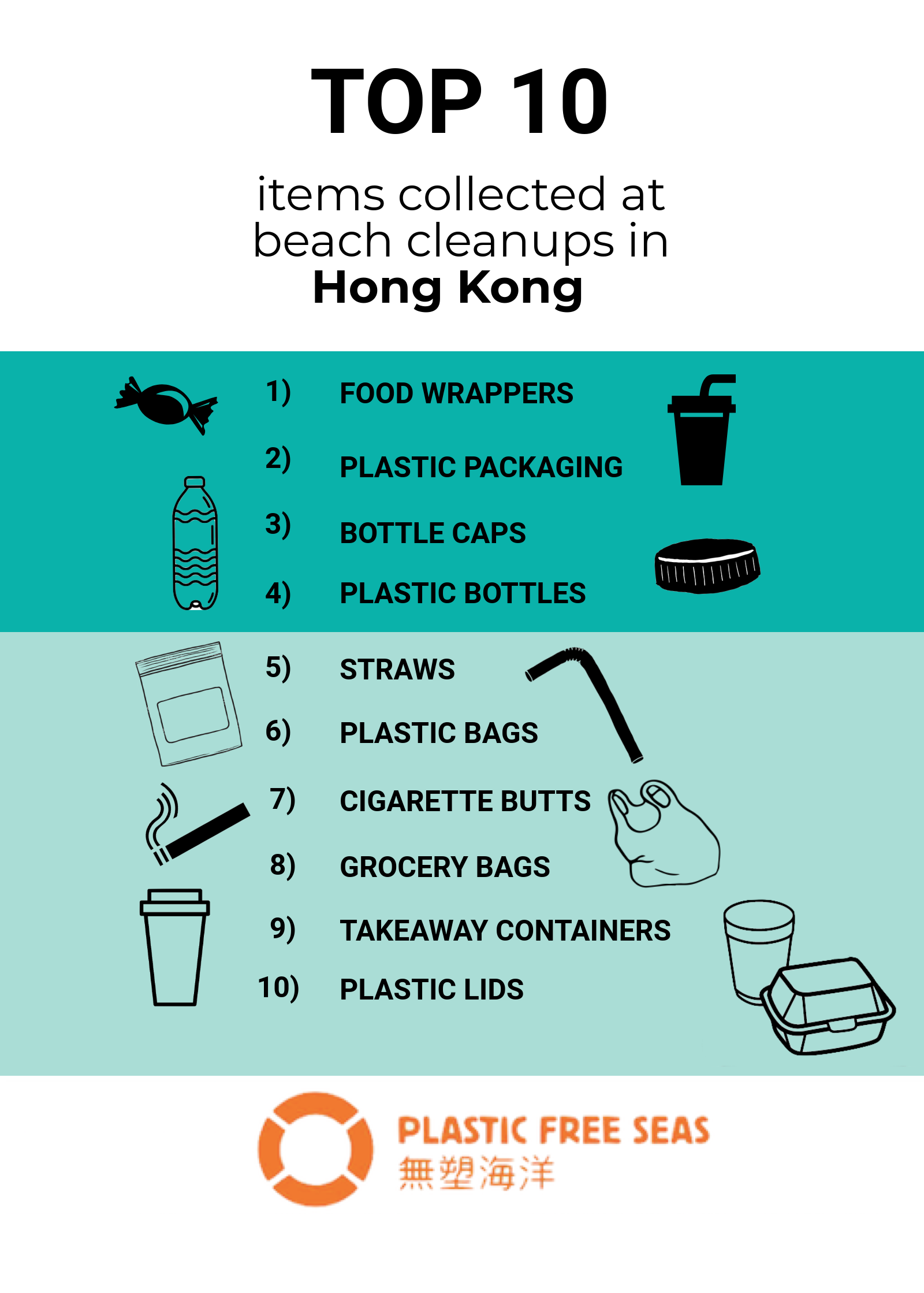 Advice & Safety Instructions
Do's
Wear sturdy, closed-toe shoes. No slippers or sandals
Wear appropriate clothing for the weather. Jeans are generally NOT appropriate unless it is quite cool.
Wear loose, comfortable

 

layers so you can add and remove as appropriate
Wear a hat and bring sun-block
Bring insect repellent
Bring plenty of water in a reusable bottle. Drink before you are thirsty to prevent dehydration
Take regular breaks in the shade if it's hot
Always use gloves to pick up things. Be aware of what you are touching
Take care of your back! Bend your knees when lifting heavy objects, and if it's too heavy, leave it
If there is lightning, stop cleaning immediately and seek shelter
Carefully remove broken glass, fishing hooks, syringes and other sharp objects. They should placed somewhere safe for disposal (i.e. a box or bottle where they won't be accidentally touched – we have a special container). Children shouldn't handle the above items – inform an adult
Re-use when you can. Use bags or boxes that you find on the beach to hold trash or bring bags from home to reuse.
Bring along a first aid kit (not necessary for Plastic Free Seas organised events)
Don'ts
Do not throw out natural items (driftwood and sticks, shells, dead fish, seaweed, etc.)
Do not take shells from the beach. They could be future homes for sea animals
Do not disturb the wildlife
Don't leave anything on the beach that wasn't there before you arrived. Don't add to the litter!
Don't touch oil drums. Let us know and we can have them removed.
Be careful when emptying out bottles of liquid. If you are certain of the contents (water in a water bottle, orange liquid in a Fanta bottle) empty and recycle. If not, leave liquid inside and throw in the rubbish. Don't empty out oil, chemicals or cleaning agents.
Download the Safety Advice sheet below
What to do with the rubbish & recycling?
Recycling – Metal and Plastic
Recycling will only be picked up from designated recycling bins.

It is easier if items for recycling are collected in different colour bags than the rubbish. Plastic Free Seas uses grey bags for recycling and black bags for rubbish so they don't get mixed up.

Metal should be kept separate from plastic. 

Only good condition, clean plastic can be recycled from the beach. This is usually drink bottles and personal care products (shampoo bottles, etc.)
Plastic bottles and metal cans can be deposited loose straight into nearby recycling bins for collection. If left on the beach they will not be collected for recycling. You can keep the lids and labels on.
Rubbish
Clean Shorelines or the FEHD will be able to tell you where to leave your rubbish bags, either at the closest rubbish bins or on the beach well above the high tideline. Do not leave the bags on the beach without informing either Clean Shorelines or the government 1823 hotline. It may not be appropriate to leave the rubbish bags on all beaches so please enquire first.
When you have done your beach cleanup don't forget to share your photos and efforts
with Plastic Free Seas on Facebook and Instagram!