Plastic Free July in Hong Kong
Join millions of people reducing their plastic waste.
Plastic Free July is a global movement that helps millions of people be part of the solution to plastic pollution – so we can have cleaner streets, oceans, and beautiful communities. Will you be part of Plastic Free July by choosing to refuse single-use plastics?
  Join our Plastic Free July Video Campaign
Grab your phone/camera and be as creative as you like! It's as easy as 1 -2 -3
1: Choose 2. Video 3. Share
1. CHOOSE the step you will take to reduce single-use. eg. reusable straw or cup, bamboo toothbrush, silicon 'ziploc' bag, reusable produce bag, reusable razor, refillable shampoo/ soap, bar soap, etc).
2. Take a short VIDEO, up to 30 seconds, in vertical orientation. Introduce yourself, say where you live and what your change is for Plastic Free July is going to be. Be sure to show the item you are switching to.
3.  SHARE the video to [email protected] or whats app to
6206 8815.
We will upload your video to social media from now till end of July.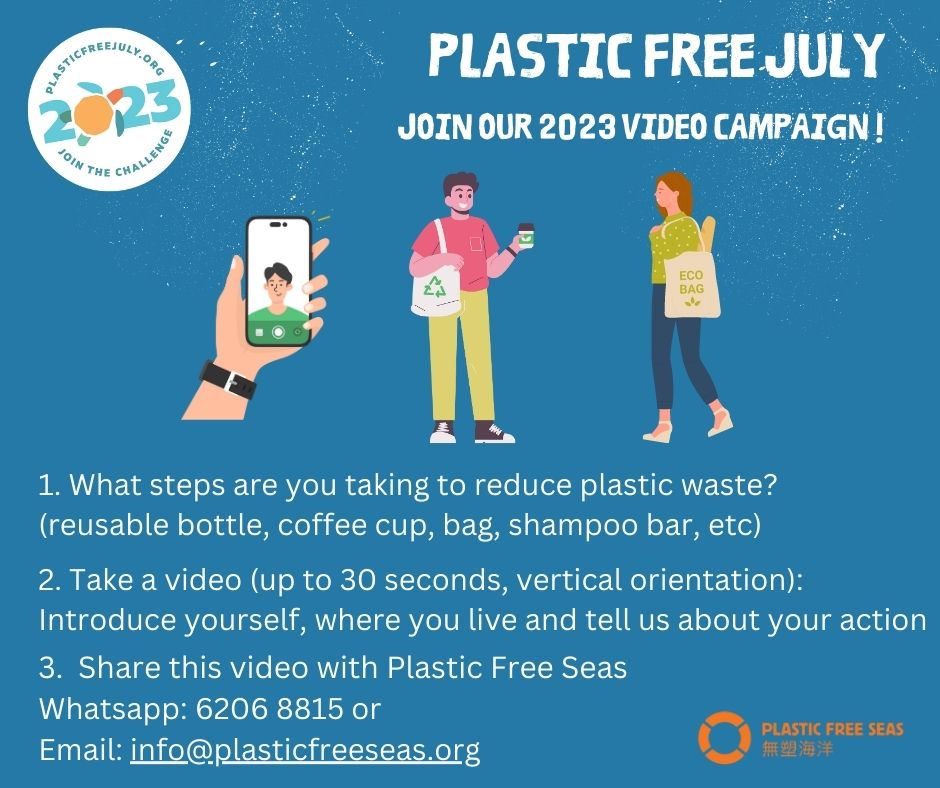 Ready to go!
Download these

 posters for printing
Buying Takeaway Food
Are your daily lifestyle habits creating a lot of waste? Are you an impulse purchaser of food and drink on the go? Start with one action and reduce or refuse that plastic. No need to buy anything new for this July challenge, just repurpose what you have – cutlery, food containers, reusable bags, glass jars. You probably have all the solutions you need at home already.
Summer Vacation or Staycation!
Whether you are on vacation or a staycation these summer holidays, you have an opportunity to ditch the disposable plastic and be prepared for any eventuality. Having a travel kit of reusables on hand makes takeaway food, coffee on the go, refilling a water bottle or souvenir shopping so much easier and much less wasteful. You'll have no excuse for using single use.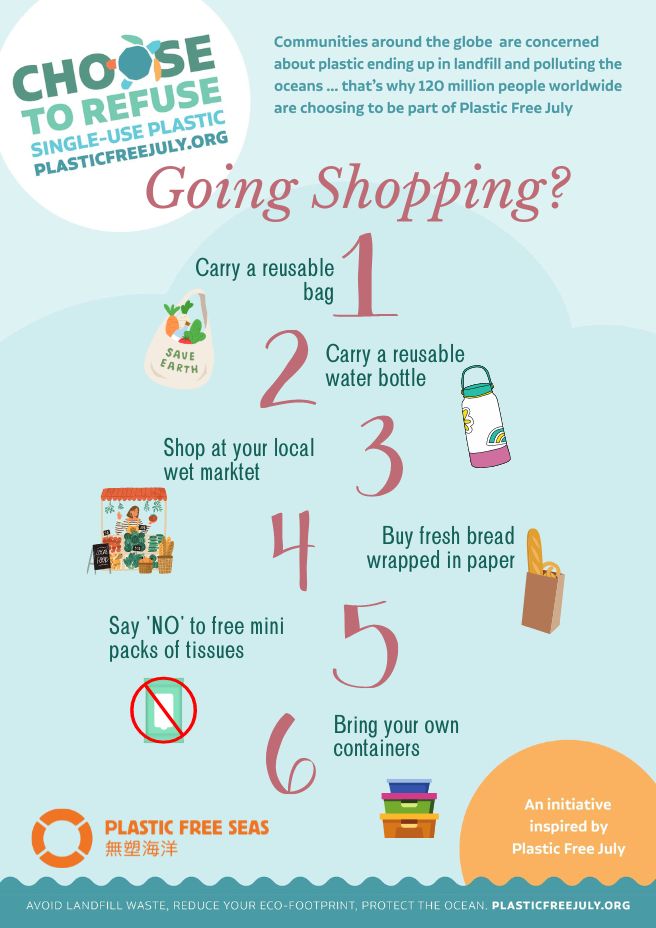 Shopping
Reducing plastic when shopping is more than about the reusable bags you bring to carry the items home in. You can bring containers for cheese, meat, and other items that are sold by behind the counter at many stores, and bags for loose fruit and vegetables. Of course, heading to a package-free store will offer you the best options for waste-free dry goods shopping, and they may also offer liquids like soaps and oil.
Take the PFJ Office Challenge
A lot of your time may be spent in the office. By leaving a set of reusables at your desk or in your office, you will be more likely to remember to bring it with you. Whether it's a coffee break, a snack or lunch (we hope you aren't eating dinner in the office), using a reusable cup, food containter and cutlery will make a difference.
Want to swap your Tricky 6?
Bathroom swaps can reduce your plastic significantly. Ditch the wet wipes for a wash cloth. Swap plastic toothbrushes for bamboo. Invest in a good razor where you only replace the blade. Get rid of the shampoo bottles and soap pump and try bar soap and shampoo. For cotton buds seek out paper or wood stems. Can you find non plastic wrapped toilet paper?
Don't know where to start?
Why not Investigate your Plastic Footprint, or check out some of our ideas below?
Kickstart July with a Plastic Footprint Investigation of your home or in your office? You will find out which plastic products are your problem plastics and be able to see exactly how much plastic you will save after taking on the Plastic Free July challenge.
Are you ready to find out how?
Stop using disposable coffee cups for Plastic Free July
67% of people were drinking hot drinks from a single-use cup inside HK coffee shops, according to our research pre-Covid. It's even worse now. Remember to bring your own reusable cup for take-away or use in a coffee shop, but what about when the staff won't accept your reusable cup?
Despite the fact that a consortium of scientists penned a statement saying that reusable containers do not increase the risk of transmission, signed by 119 scientists from 18  countries, some shops are still refusing to accept them.
If your favourite coffee shop refuses to accept your BYO cup, sighting hygiene concerns, let them know they they can safely serve you without touching your cup. Check out this video to find out how.
Choose a safe washable reusable mask
There are many reasons people may continue to wear masks. At the height of Covid, if every person in HK wore one single-use mask a day, In one month we would use 250 million masks – the weight of 7 blue whales! We are still seeing disposable masks littered in the environment and floating in our ocean. Disposable masks are made from polypropylene and will not break down in any meaningful timeframe. If you want to be safe but don't want to create waste, an Enro mask offers the same filtration as an N95 mask. Order yours today at www.asia.enro.com.
*PFS does not receive any financial benefit from you buying these – just the environmental benefits!
Did You Know?
If you swapped your daily disposable coffee cup habit and switched to a reusable mug over the year you will prevent a whopping 780 pieces of rubbish (lids, cups and sleeves) ending up in landfills! 
Did You Know?
Conversations about Plastic Free July with businesses, cafes, restaurants and shops could lead to larger scale plastic reduction actions. Who could you speak with to make a plastic-free change?
Did You Know?
You could turn Plastic Free July into a friendly competition in your office or between friends?  Who can make the biggest reduction in their plastic usage?