I am often surprised and shocked by a lot of things that happen in Hong Kong – good and bad and the last few days have certainly been both.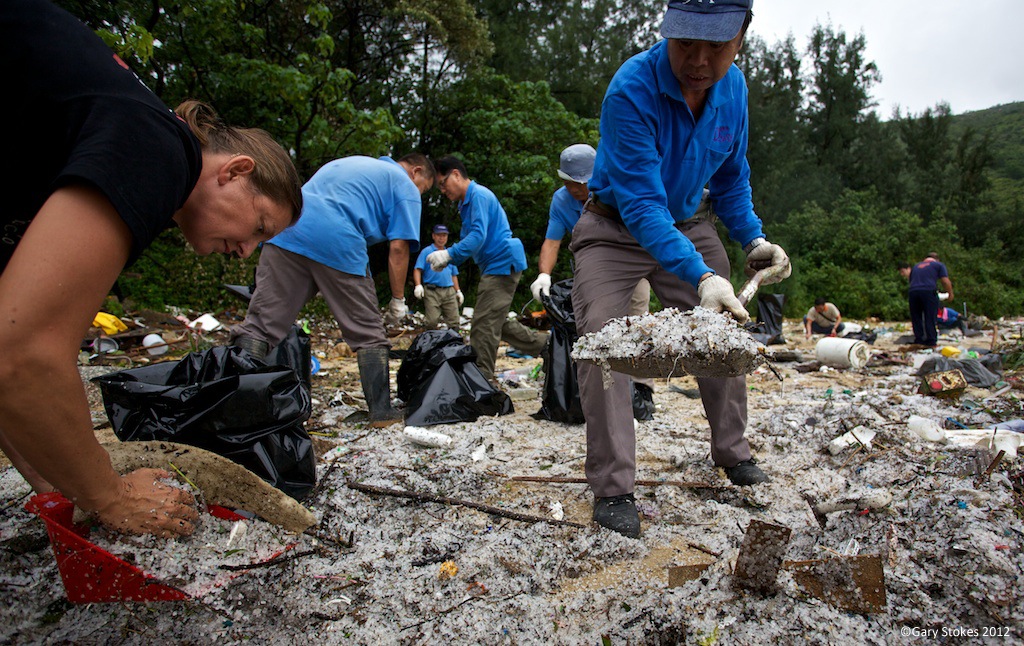 The speed of response and manpower that has been offered for this massive pellet spill has been surprising and very much appreciated.  All the government departments that I asked for help have assisted.  Our local management has been great in providing an immediate response to this disaster.   On Thursday we had the Environmental Protection Department (EPD), the Food, Environment & Hygiene Department (FEHD) and local management cleaning the beach with a few of us volunteers.   All up we had close to 40 people, workers and supervisors come out to join forces with myself, Gary Stokes, Kevin Laurie, Angie Bucu and my sister Jodi.  And boy did we all work hard.  Millions of nurdles are not easy to get off a beach!
We were able to remove in excess of 150 bags of nurdles from the sand.  Unfortunately further exploration of the rocky coastline revealed that the disaster was far worse than first thought.
We found around 200 Sinopec branded bags that day making a total of 5000kg of known pellets – alas, half of them had already spilt their contents.
The frustrating thing was trying to get in contact with Sinopec to ask if they had an environmental management plan to contain a plastic pellet spill and to find out how big this was likely to be.  Surely a company with such a glowing and incredibly proud CSR policy would know what to do and be out here to follow up, I thought naively.    The receptionist I spoke with basically told me that they did not have an environmental deptartment and there was no one that could speak to me and then hung up.  For the rest of the day their one phone was off the hook.  I sent them a fax and hoped that it would be read and responded to.
Fortunately after 36hrs delay senior management did respond and they came out to Discovery Bay to meet with us.  We took them to see the 110 or so full bags we had (with dozens of empty bags there too) and then to both local beaches where 40 more bags (intact and not) had washed ashore.
The Sinopec staff were very apologetic and promised to help cooperate with us to find the company that was responsible through the barcodes visible on the bags.  We now have these details including the shipping company and the locations of the spill.  Unfortunately Sinopec do not have any policy or advice on what to do once the pellets leave their factory and what happens if there is a pellet spill.
Gary & I have been spending a huge amount of time following up on this, spreading the word and trying to find out how much of HK this is affecting.  We know through social media sites that it is widespread and every hour or so we are getting calls from government and updates from people over HK reporting on their local beaches.
Sadly it seems this is now massive and we still don't know the final numbers.  Confirmed this morning was that 3  40 ft shipping containers had been recovered from the sea with 2 of them open.  We don't know how many of these bags fit into a container but the loss could run well over the 1000 bag mark.  If so, the consequences are devastating.
For me today, being on the beach at the DB Green Post Typhoon cleanup it was even more depressing than normal.  Typhoons have a way of showing you how badly you are treating the planet.  As I was filling my 1st, 2nd, 14th, 25th garbage bag of plastic and vegetation I couldn't help but think about the scale and tragedy of it all.  The sheer amount of nurdles that were interspersed within the massive amounts of plastic wrappers, cups, straws, toys, styrofoam and nets and every single household item imaginable was truly shocking.  Now we have the full cycle of plastics, as if it wasn't difficult enough already!  How have we got to this point where at least 10 tonnes of mostly plastic rubbish in all its forms can be dumped on one beach from one of the top cities of the world?
One thing that has amazed me though was the FEHD cleanup team that was dispatched to help  remove the 150 + bags we found on the rocks.  I met them on Friday at the beach at 9am (they had arrived and were cleaning since 6!) and was really shocked. That morning we were to remove over 2000kg of bags and this was the team that was sent.  There were 5 workers and the 2 women when asked, told me they were in their 70s.  I spoke of my reservations to the supervisor and his response is below.
They certainly were fine – they were actually unbelievable.  These people are the most hardworking and strong workers you will ever find!  The women were incredible carrying the 25kg sacks on their shoulders over the slippery rocks.  I was really humbled to be working alongside them.  Certainly the unsung heroes of HK.
A lot of people have been asking me what they can do to help.  The urgent need is to get the plastic pellets off the beaches before they get into the water.  Whilst they are resting on the sand they are really easy to sweep up with a dust pan and brush.  If you have 30 mins or more to spare it would be great to get down to your local beach and fill up a garbage bag.  It isn't dirty work, the plastic isn't harmful whilst it is on the sand and anyone can do it.  The garbage bags can be put in the normal rubbish bin.  Also, please let me know what the state of your beach is as we are co-ordinating cleanups with the FEHD and we also want to get a good idea of which beaches are most contaminated and get to them fast.
Every nurdle counts, you never know where that nurdle could have ended up!