Student Projects
Be inspired by artwork and project ideas from students who have taken on the issue of plastic marine pollution.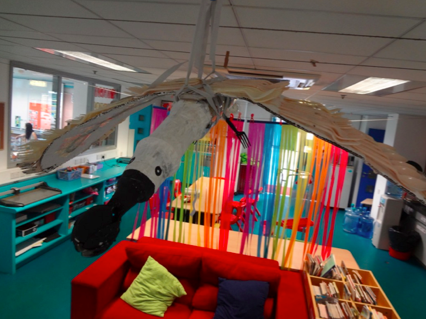 Renaissance College Hong Kong 2014
Hong Kong's Endangered Spoonbill bird was the inspiration for RCHK Primary students to highlight the issue of disposable plastic cutlery in the school canteen. They upcycled plastic bottles, spoons and forks from the canteen.
The students also worked toward elimitating the use of throwaway utensils through conversations with the food service provider.
Anna Yr 9 Victoria Shanghai Academy 2020
Anna authored and illustrated her book:  Lily You Did It!  The book was originally for her community project which involves taking action for an organization. Lily You Did It! was designed to teach younger students about plastic waste problems, how the environment is affected and show students how they can reduce their use of plastic.  Anna has had the book printed and is planning to have it available in her school library.
Tianne & Calista 1st Hong Kong Canadian Scout Group 2020
Tianne and Calista really care about our environment. For their Chief Scout Award project, they decided to spread awareness about reusable beeswax wrap, that they are an alternative to wasteful cling wrap. They sold beeswax wraps and kits to make-your-own, to not only educate but to help reduce the amount of cling wrap used and disposed of. They created a website educate sell their products. They sold an amazing 124 sheets of beeswax wraps and 21 DIY kits, and donated their profit to Plastic Free Seas. We thank you for your amazing effort! 
William Yr 6 Kellett School 2018
The Plastic People sculptures highlight the history of plastic and how long plastic has been sitting in our land and floating in our oceans, William also listed a top 10 alternatives to plastic that the public can start using now to make a difference.
Charles Yr 6 Victoria Shanghai Academy 2018
Charles made a VR game about plastic pollution which he used at school and some of PFS community booths.
Footprints of the Rainbow
Footprints of the Rainbow By Jill Smith. (GSIS)
Such pretty colours in the sky
But even if you were up high
You could not make them stay.
Such pretty colours in the sand
I hold this rainbow in my hand
It will not go away.
The plastic footprints on the beach
Won't disappear with tidal reach
They'll only replicate
And trample all that's in their path
How long how long can nature last?
No plastic without trace . . .
Unlike the rainbow way up there
This one won't vanish in thin air.
Trashion Shows
Some schools in Hong Kong hold annual Trashion Shows to highlight the issue of plastic waste by utilising plastic discards or plastic waste.
There are many international and famous Trashion artists to inspire creativity. One such artist, Marina Debris, has held many highly acclaimed Trashion Shows as well as exhibiting plastic waste installations.
RCHK Trashion Show 2019 (Pictured)
What originally started as an after-school sewing club seven years ago has gradually matured into a student-led fashion show. 
In 2019 it was also a fundraising event for Plastic Free Seas! Read more about the 2019 event  in The road to Trashion written by RCHK student Chi Ching Chow.
Discovery College Year 5 Media Project
Tshirt design project
Design brief: T-shirts for kids who attend the Plastic Free Seas/DB Green community beach cleanup programme
South Island School – Student Video
Interview with PFS team on a beach cleanup.