Student Projects
Be inspired by artwork and project ideas from students who have taken on the issue of plastic marine pollution.
Students Create An Illustrated Children's Story
Briana Yip and Aiden Luk, both in Primary 6 at St Eugene de Mazenod Oblate Primary School, authored and illustrated this full-colour story called Environmentally Friendly Alien in conjunction with Kids4kids and My Story Creation in 2023. In the adventure, Tom, an alien from Mars, discovered that the Earth is an awesome planet but we humans are destroying the Earth bit by bit because we use too many plastic products and throw them into the ocean! This story reminds us of how precious the Earth is and that we need to change our behaviour if we want to save our planet.
This is an excellent example proving that students can be mini teachers, authors, and illustrators,  educating and influencing other students to help solve the problem of plastic pollution.
Environmentally Friendly Alien
You can click through the arrows to read the next page of the story
Tom is an alien from Mars. He always travels the universe by his space ship. One day, he flew over the Earth. He was attracted by its breathtaking, majestic blue and green outlook. 
He discovered that the blue colour was from the ocean on Earth. He came too close and fell into the ocean. In the ocean, he saw a lot of beautiful and exotic fishes and other sea creatures. He then found out that the green colour was from the land on Earth. The land was covered by bewitching forest and a lot of interesting animals lived there. Since he didn't have anything like this on Mars, he decided to come to Earth more often as it had such a lovely environment.
After a few years, when he visited Earth again and dived into the ocean, he was shocked! He saw a lot of dead fishes and plastic bags. The fish had died because they had eaten some plastic bags. But Tom didn't understand why there were so many plastic bags in the ocean. Why people on Earth would throw the plastic bags into the ocean?
Soon, he discovered that people on Earth didn't care about their own planet. They used too many plastic bags and threw the plastic bags into the ocean and hurt those wonderful creatures. He thought to himself if this continues, ocean on Earth might not have any sea creatures left.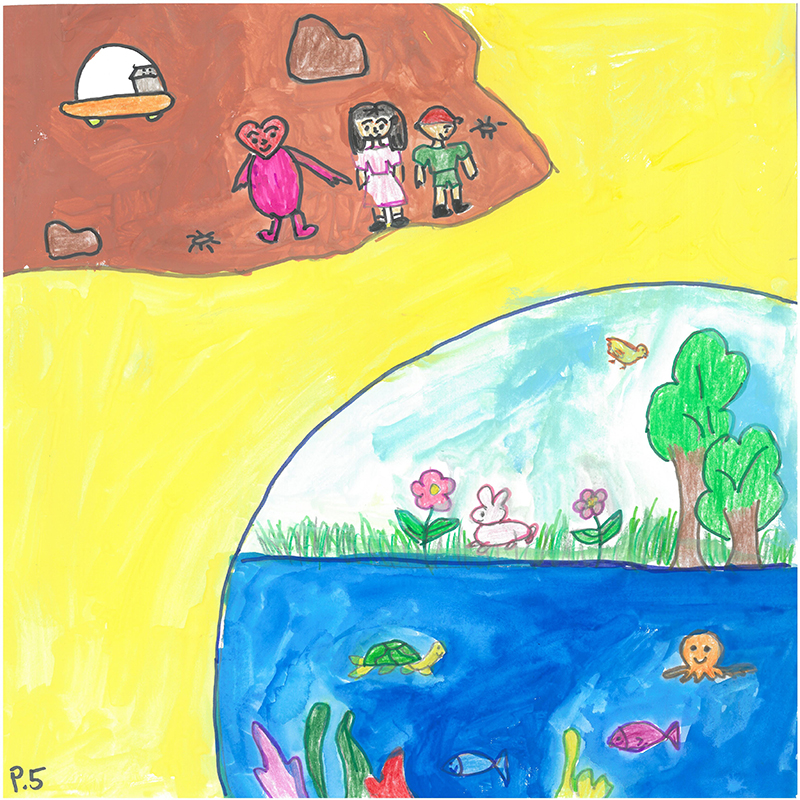 As an alien from Mars, Tom loved and valued planet Earth more than the people living on Earth. He wanted people on Earth to understand that they live in a very awesome planet and that they should take care of it. So, he decided to bring some people from Earth back to Mars to make them realize how they were destroying their wonderful planet.
After they had visited Mars, hopefully they would understand how lucky they were to live on such an amazing planet with so many different species. They would use lesser plastic bags and not pollute the ocean by throwing the plastic bags into the ocean. Do you think people on Earth will change?
We hope you enjoyed the story! Please share it with your friends.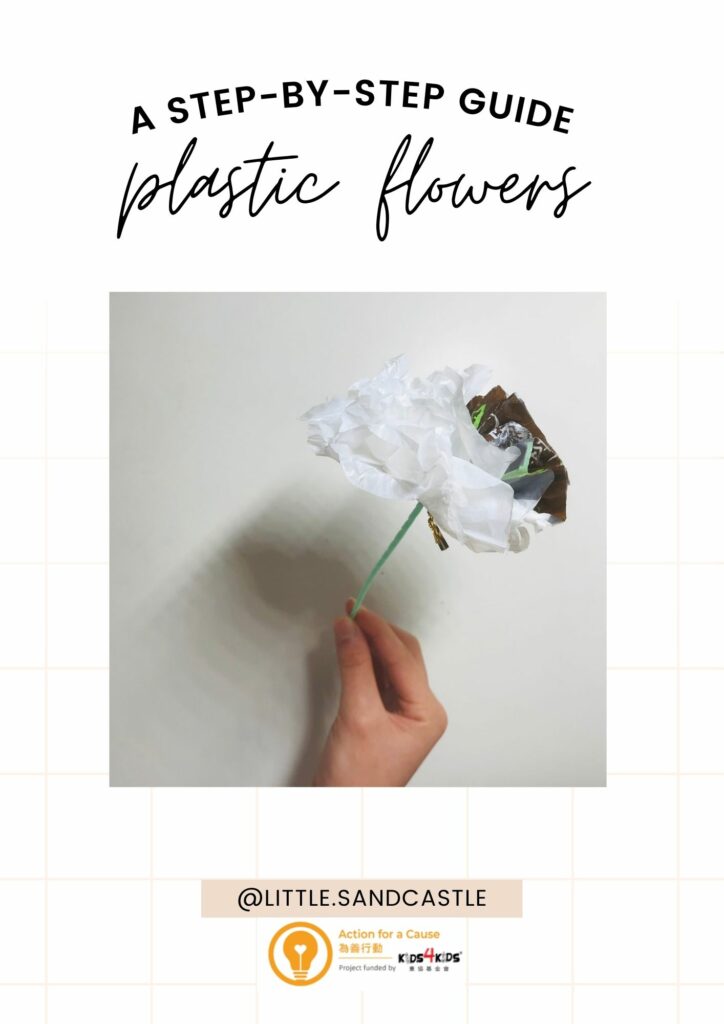 Up-cycle to Reduce Waste
PFS is proud to work with Kids4Kids for the second year (2022) in a row as a student group mentor. The Little Sandcastle (@little.sandcastle) is a project run by Isabelle and Ran to reduce and repurpose waste.
They host drives to collect plastic and repurpose it in meaningful ways to inspire others to do the same. Their products will be sold across different platforms, with profits going to PFS; they also teach others how they can up-cycle on their own. With these instruction packs, not only can people stop purchasing manufactured goods like coasters, but they can also reuse things within the home.  Download the guides and start making projects today!
If you want to find out more, check out IG @little.sandcastle or email us here. 
This project is funded by Kids4Kids Action for a Cause Program 2021 – 2022. For more information about the program, please visit:
www.kids4kidsyouth.org.hk.
Developing Plastic-Eating Bacteria
A team of students from G.T. (Ellen Yeung) College (Gabriel Leung, Gavin H.H. Chau, Jonas C.Y. Fok, Belovffy K.K. Liu, Calista E. Loh, Ian C.Y. Tam, Gordon W.T. Leung, Heison C.H. Wong, Nicolas C.L. Wong, Josh C.H. Ho and Conan T.L. Tse) participated in iGEM 2021 and worked on an amazing project. It was multi-faceted: they used drone and AI technology to train a deep learning model to detect plastic bottles and measure the levels of plastic bottles on beaches; they conducted surveys to gain insight into secondary school students' attitudes and practices with regard to plastic pollution; and they used a protein engineering approach to create plastic-eating bacteria to speed up PET degradation. They have developed education materials to raise public awareness on the issue, and their goal is that their findings and efforts will provide Government and NGOs information for future implementation of plans for cleanup efforts, and to foster collaborative efforts on the issue. 
Find more about their iGEM submission here. You can download their education booklet below.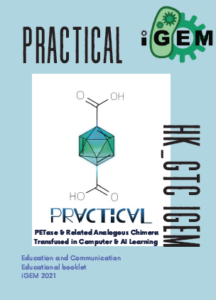 1st Hong Kong Canadian Scout Group 2020
Tianne and Calista really care about our environment. For their Chief Scout Award project, they chose to spread awareness about using reusable beeswax wraps as an alternative to wasteful cling wrap. They sold wraps and kits to make-your-own, to not only educate but to help reduce the amount of cling wrap used and disposed of. They created a website to educate and sell their products. They sold an amazing 124 sheets of beeswax wraps and 21 DIY kits, and donated their profit to Plastic Free Seas. Thank you for your amazing effort! 
Anna Yr 9 Victoria Shanghai Academy 2020
Anna authored and illustrated her book:  Lily You Did It!  The book was originally for her community project which involves taking action for an organization. Lily You Did It! was designed to teach younger students about plastic waste problems, how the environment is affected and show students how they can reduce their use of plastic.  Anna has had the book printed and is planning to have it available in her school library.
William Yr 6 Kellett School 2018
The Plastic People sculptures, exibited at PMQ, highlight the history of plastic and how long plastic has been sitting in our land and floating in our oceans. William collected all this waste plastic to make these sculptures. He also wrote a 'top 10 alternatives to plastic' poster to educate so that the public can start to make a difference now. PFS uses this fantastic poster to educate at our booths. 
Charles Yr 6 Victoria Shanghai Academy 2018
Charles devised and created a VR game about plastic pollution which he used at school and helped out at some of PFS community booths to engage the public.
Footprints of the Rainbow
Such pretty colours in the sky
But even if you were up high
You could not make them stay.
Such pretty colours in the sand
I hold this rainbow in my hand
It will not go away.
The plastic footprints on the beach
Won't disappear with tidal reach
They'll only replicate
And trample all that's in their path
How long how long can nature last?
No plastic without trace . . .
Unlike the rainbow way up there
This one won't vanish in thin air.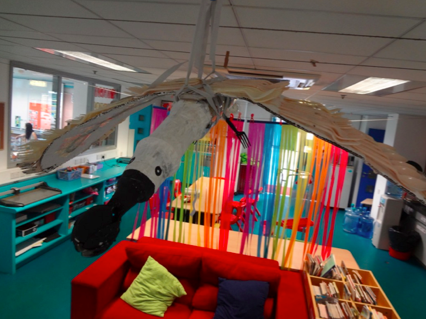 Renaissance College Hong Kong 2014
Hong Kong's Endangered Spoonbill bird was the inspiration for RCHK Primary students to highlight the issue of disposable plastic cutlery in the school canteen. They up-cycled used plastic bottles, spoons and forks from the canteen.
This Spoonbill was displayed around the school, to spread the message the need to reduce waste to everyone.
The students also worked toward eliminating the use of throwaway utensils through conversations with the food service provider.
Trashion Show - RCHK 2019
Some schools in Hong Kong hold annual Trashion Shows to highlight the issue of plastic waste by utilising plastic discards or plastic waste.
There are many international and famous Trashion artists who inspire creativity. One such artist, Marina Debris, has held many highly acclaimed Trashion Shows as well as exhibiting plastic waste installations.
At RCHK, what originally started as an after-school sewing club seven years ago has gradually evolved into a student-led fashion show. 
In 2019 it was also a fundraising event for Plastic Free Seas! Read more about the 2019 event  in The road to Trashion written by RCHK student Chi Ching Chow.
South Island School – Student Video
Interview with PFS team on a beach cleanup.