World Ocean Day is today and I am happy to be sitting in the office having spent the last 4 days soaking up (way too much!) sun on beaches and the sea all over Hong Kong.   We are blessed here with what we have around us – more than 220 islands and thousands of kilometres of stunning coastlines.
The last 4 days have been fun, intense, disheartening, hopeful and hard work!  Plastic Free Seas has lead 4 beach cleanups all over Hong Kong.  Here are my thoughts from these events …
Thursday: Canadian International School onboard the PFS Sea Classroom with a trip to a beach on Lamma Island for a cleanup.
Empowering kids with easy to adopt local solutions to the global issue of plastic marine pollution is a no brainer.  Giving them a good reason to say no to single use disposable items that are often freely given away, makes a difference.  After removing more than 100 straws from a small beach it is easy to remember to say 'I don't need a straw with my drink – thanks!'
Friday: Morgan Stanley Corporate Cleanup Lung Kwu Tan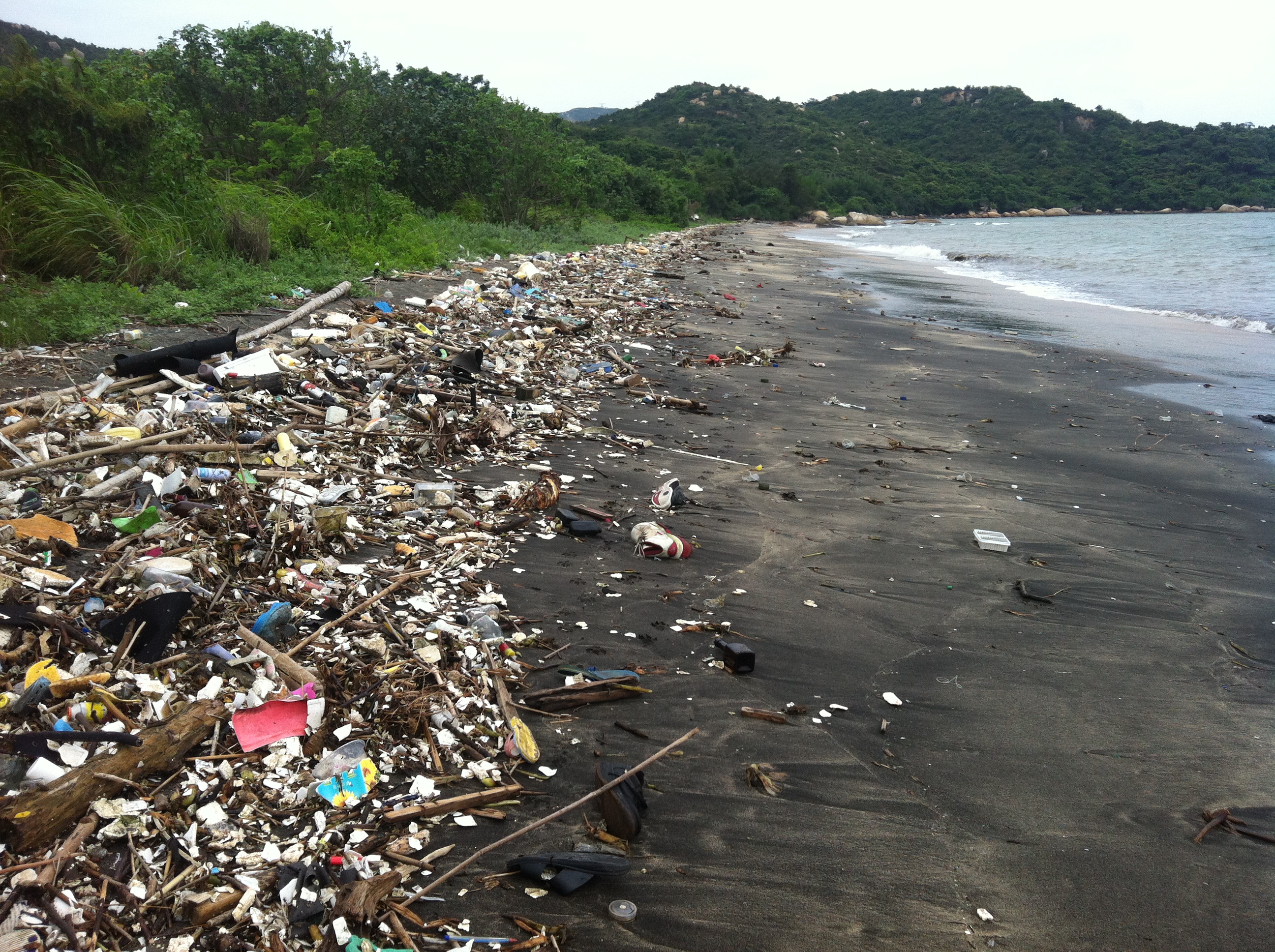 What can you do with 47 people on a 250 metre beach that looks like this?  There was an extremely depressing amount of trash washed up on this isolated beach that is near the habitats of Horseshoe crabs as well as Hong Kong's Chinese White Dolphins.  The volunteers spent 1.5hrs throughly cleaning as much as they could – including all the small bits of broken down polystyrene.  37 metres of beach was scoured and 120 bags of trash removed!  Often it is just the big pieces of trash that are removed on cleanups leaving behind the small bits that are easily ingested by marine creatures and making their way into the food chain.  What were their takeaways from the day – carry your own cutlery, use a refillable water bottle, have a takeaway food container for use at the office.  Refuse polystyrene!
Saturday: Community cleanup with Sea Shepherd HK
Just outside of the Aberdeen typhoon shelter is a small beach (submerged on very high tides) that is often a depository for floating trash and as you can see in the rocks, trash left by a few inconsiderate visitors!  Sea Shepherd HK organised the 'Hit the Beach' event with a few days notice and had about 40 people turn up to be shuttled out by speed boat to this 82m beach.  Lots of enthusiasm was shown by everyone especially the children who collected over 40 bags of trash and recyclables, more than 220 straws and a huge amount of plastic pellets, polystyrene bits and small broken down plastic fragments.
The highlight for me was meeting Charles.  An enthusiastic 6 year old who was so knowledgable about ocean issues and committed to making a difference.  He is going to do an assembly at his school with things collected from the beach to highlight this issue and show a lot of people what they can do too.  His goal is to be Captain Charles (Moore) II but he wants to sail across a clean Pacific Ocean with no garbage patches!
Sunday: Cleanup with Royal Hong Kong Yacht Club at Middle and Round Island
50 people of all ages turned out for this event to clean 3 beach areas.  From what looked like a beautifully clean beach (first picture in this post – Round Island), a mass of trash was removed from the rocks and the bushes above the high tide line.   Everything was removed from fishing gear, toys, balls, shoes, single use plastic items to plastic bags and polystyrene boxes.  We had a great discussion afterwards about waste reduction for events and how a simple thing like the club having large dispensers with filtered water for refilling reusable bottles can save a lot of single use disposable plastic bottles – simple way to reduce waste and better still save money!
What was least obvious and most depressing about the beach that I was on with volunteers was the amount of micro plastics not just on the beach but floating on the sea surface.  It is easy to pick up the big pieces but sieving through the sea water is impossible – how much of our water is covered in this?
So what are the 4 things that I know after these 4 days on the beach …
1.  Connecting people to the issue of plastic marine pollution is necessary!  Once you see all the trash on the beach you can't un-see it!   Showing people evidence that our trash is ending up in our food chain with fish bitten plastics makes a real impact. Once you know about the problem you can do something about it.
2. There are A LOT of fantastic people in Hong Kong that are willing to come out in the hot, hot sun to work hard, get dirty and make a positive difference!
3. There is so much we all NEED to do.  Beach cleanups everyday will not solve the problem.  It is like trying to empty an overflowing bath tub with a bottle cap whilst the tap is still running.  Government needs to enact real source reduction policies immediately and they need to enforce the laws (against dumping and littering) that exist now.  Everyone needs to adopt lifestyle changes to reduce our consumption and waste.  Companies that manufacture goods have to start considering the environment within their business practices at every level.
4. There are some really awesome kids out there!  The future does look bright with these knowledgable and caring young people set to be our next leaders.
Plastic Free Seas is a local Hong Kong charity that relies on donations to fund our education programs which we offer free of charge in schools.  Our beach cleanups are also supported through donations.  If you appreciate what we do please consider supporting our work.  You can donate through Just Giving.
Happy World Oceans Day!
~ Tracey
The PFS Sea Classroom, Lamma Island, HK